Ziggy Tribase Folding Walking Stick (Black )
Featuring three rubber feet on a pivoting base for added stability, the Ziggy Tribase Folding Walking Stick (Black ) greatly improves on the traditional folding cane design. The base provides so much stability that the stick can actually stand on its own, while the height-adjustable design ensures the stick will be the perfect size for almost any user.
Should You Use the Ziggy Tribase Cane?
This folding walking stick is ideal for anyone looking for added stability from their walking stick, as the three rubber feet grip the ground to make it safer than ever to rise to your feet, sit down, or walk on all sorts of surfaces. Strong and lightweight, this cane is perfect for anyone looking for a bit more peace of mind than what is provided by traditional walking sticks and canes.
Does A Tripod Walking Stick Base Improve Stability?
 the three-point base provides a greater surface area to grip the ground, the pivoting motion of the base will ensure that all three rubber grips stay in motion with the ground at all time with minimal lifting. This makes the cane especially beneficial to anyone who uses it to go from a sitting to standing motion, as the stick can be tilted without affecting its ability to grip the underlying surface.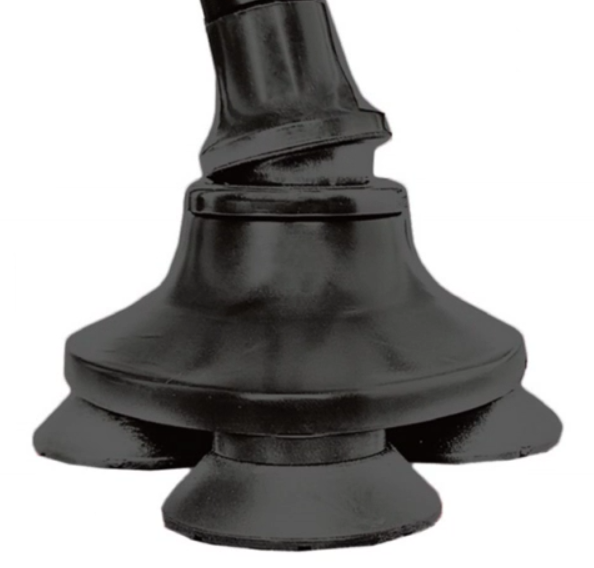 The Benefits of a Self-Standing Walking Stick?
For users with lower levels of mobility, having to pick a walking stick up from the ground can be straining and uncomfortable. This stick will stand on its own using the wider base, allowing it to freely stand for easy access while the user is sitting or lying down.
Can You Adjust the Ziggy Walking Stick ?
This walking stick provides a large range of height adjustments, and is adjustable between 770mm and 950mm (30" to 37"). This wide adjustment capability makes the stick suitable for most users, allowing each to use the stick at the safest and most comfortable height for them.
Is The Ziggy Tribase Walking Sticks Handle Comfortable ?
The handle of the Ziggy Tribase Cane is made with a soft touch plastic material that will be easy on the hands when gripped. The shape of the handle is contoured to fit comfortably in the hand, making it a suitable option for those with weakened grips or arthritis.
How Much Does The Ziggy Tribase Weigh 
The Ziggy Tribase Foldable Walking Stick is designed with lightweight materials to be as easy to carry as possible, weighing a total of 450g including the base. It is made of aluminium, a material strong enough to be supportive, yet light enough to allow comfortable use by virtually any user.
Information About The Ziggy Tribase Walking Stick 
Shaft Material: Aluminium
Shaft Colour: Black
Shaft Pattern: Plain
Shaft Type: Height-adjustable and foldable
Height: Adjustable from 77cm to 95cm (30" to 37")
Handle Material: Soft-touch plastic
Handle Colour: Black
Handle Pattern: Plain
Handle Type: Contoured Relax
Ferrule Type: Tribase
Ferrule Material: Rubber
Wrist cord included
Foldable into three sections